FREQUENTLY ASKED QUESTIONS
GENERAL QUESTIONS
HOW TO REACH US?
WHAT ARE THE OTHER TRANSFER OPTIONS?
HOW MANY DOCKS ARE THERE?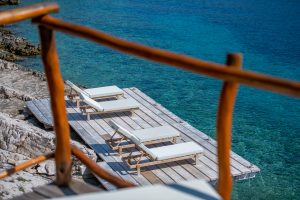 There are 2 docks and 5 moorings available; there's a dock with a single mooring, and a dock with 4 moorings. There are two more moorings on the buoys not far from the shore, and one of them is suitable for bigger yachts, catamarans etc.
DO I NEED TO MAKE A RESERVATION?
We strongly recommend that you make a reservation. We advise you to make your reservations before leaving your accommodation, because cell phone coverage and wi-fi can be unpredictable on boat or islands.
IS THERE A BEACH?
BOWA has a small beach and there is a limited number of sun-beds which we offer based on a first come-first served policy, no reservation possible. We do not have sun umbrellas due to wind strikes on the north side of island Sipan, so bring your sun-screens.<br>
Please note:
The island of Šipan is rich in wildlife, and we like it that way. However, if you have any allergies, or you're simply bothered by insects like mosquitoes we recommend you to wear long pants and appropriate footwear.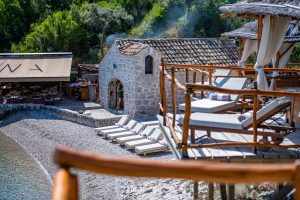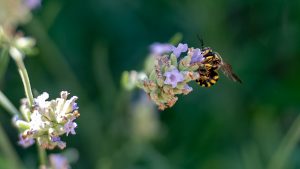 CABANA
CABANA – HOW LONG DO WE HAVE IT FOR? IF WE PLAN ON LUNCH AT THE 3PM OFFER CAN WE ARRIVE AT 1:30 PM OR SO IN ORDER TO SWIM AND ENJOY THE WATERS/BAR, ETC?
The cabana is yours from 11.30 am until 5.45/6 pm. If you plan lunch at 3 pm you may not have enough time to enjoy. At least 4 hours and we recommend for full enjoyment if you order tasting menu. One cabana can accommodate max 14 pax (adults) however we do not recommend to book max 10 pax for your enjoyment.
IS THERE A TIME SLOT IN A CABANA AS FOR THE TERRACE?
No. Cabana is envisioned to spend the day with us, as an all-day experience.
INFORMATION IMPLIES NO CORKAGE FEE – DOES THIS MEAN WE CAN BRING OUR OWN BEVERAGES?
Information of no corkage fee means we only offer our own wines.
AS FOR THE MENU – WE HAVE 2 PEOPLE THAT ARE NOT BIG FISH EATERS — WHAT ELSE CAN WE EXPECT?
The tasting menu does not have to be announced prior to your arrival, however you can mention, while booking. Our chef can make slights adjustments to the tasting menu concerning allergies and intolerances. You may order extra from the daily menu if you want to skip some courses.
IF I ORDER EXTRA FROM THE DAILY MENU, IS IT INCLUDED IN THE TASTING MENU PRICE?
Everything you order aside from the tasting menu is extra.
IS THE 5 COURSE TASTING MENU THE ONLY CABANA OPTION? OR CAN ONE PICK FROM THE TERRACE MENU?
In the cabana you may order daily menu instead of the tasting menu in the amount of cabana experience cost. Drinks are not included.
CAN I ORDER A TASTING MENU ON THE TERRACE?
It is possible to order the tasting menu on the terrace, however, your time to enjoy it will be limited from usual 4 hours to 2.5 hours. We have had many guests having the tasting menu on the terrace.
WE ARE COMING WITH CHILDREN, WHAT CAN THEY ORDER IN A CABANA?
Our chef has prepared menu for children. That is usually grilled or tempura chicken or fish fillet with confit potatoes or pasta with tomato sauce. The price is 25 EUR per menu.
DO I HAVE TO ANNOUNCE MY FIRST COURSE PRIOR TO ARRIVAL?
We only require for our guest to announce the time of arrival so we can approximetly set you first course.
IF I COME WITH MY PARTNER AND OUR THREE CHILDREN, MAY WE BOOK A CABANA?
If it is you and your partner (2 adults) and your 3 children under the age of 12 years old, you may book cabana freely and you will be calculated in the cabin experience cost as it is usually set for 4 adults.

WHAT IF WE DO NOT REACH MINIMUM SPEND IF WE ARE HAVING THE DAILY MENU?
If you do not reach the minimum of the food, the rest will be charged as a consumption fee for booking a cabana.
MAY I MAKE A DEPOSIT WITH MY CREDIT CARD?
Our online booking is active and you may pay directly using your credit card details. This payment option is secured and protected on our website.

WHAT IF THE WEATHER IS BAD AND I HAVE TO CANCEL MY BOOKING?
Inclement Weather Policy: In the event of bad weather, the deposit is non-refundable in case of rain-only. However, if the wind speed exceeds 20 knots by 10:30 AM on the day of your reservation, Bowa will be closed, and your deposit will be 100% refundable. Our dedicated host will always provide an alternative option, allowing you to transfer your reservation to another date, if possible.
WHAT does a SEATING HOUR ON THE TERRACE mean? DOES THIS MEAN I HAVE TO LEAVE THE TABLE? Where should I go?
Once you choose your seating, for ex. 12 pm until 3 pm, around 2.45 pm we will invite you to stay at our beach or the lounge area, so we can clear for the next guest. There is no guarantee you will have a free sunbed or a lounge table, however, we invite you to stay for a swim or at the bar, as the guests are constantly fluctuating and from experience, there is always a spot for you to stay longer at BOWA 🙂
WORKING HOURS
BOWA WORKING HOURS: April 15th until October 15th
11 am – 6 pm
Thank you for choosing BOWA Experience!