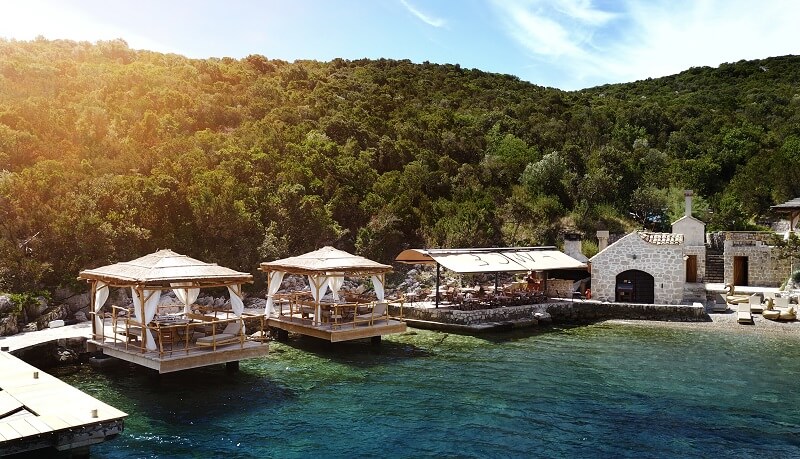 SAVE THE DATE FOR ELAPHITI ISLANDS
If you are looking for a memorable day when you will enjoy blue sea and untouched Mediterranean nature but also want to explore some new places with a rich cultural heritage, the Elaphite Islands Tour is a great choice. The highlight of the day would be BOWA restaurant where you can try some particular specialities based on Mediterranean cuisine.
There are 13 islands in the archipelago to the northwest of Dubrovnik. BOWA is situated on Šipan, one of three inhabited island. The other two islands definitely worth visiting are Lopud and Koločep.
Apart from beautiful, almost private beaches, you can take a walk through beautiful nature on each island.
On Lopud island there is one of the most popular sandy beach, Šunj. But Lopud has much more than just this1.2 km long sandy beach to offer – there are also beautiful parks, gardens and a rich cultural heritage with more than 30 churches, numerous summer villas and fortifications.
The second inhabited island we will visit is Koločep. It is the south-easternmost inhabited island in Croatia, once well known due to its shipbuilding history. The story goes that two of the sailors on Christopher Columbus's boat Santa Maria were from Koločep.
Šipan is the largest of the Elaphite islands. One feature is the many olive trees on the island, but there is also the Skočibuha palace, situated in Suđurađ, the only completely restored country villa in Croatia. Šipan is in the Guinness Book of Records as the island with the greatest number of olive trees in relation to its size and population. Šipan is the place where BOWA is situated. Oil from those olive trees are an essential ingredients of every meal.
There are so many beautiful features of the Elaphiti islands, so the perfect day would be cruising around, exploring islands, and then lunch at BOWA. For you we have prepared a package in cooperation with Adriatic Explore where you can rent a speedboat, explore the coast and enjoy your time at BOWA. Choose a boat on www.adriatic-explore.com and you will get 5% discount for online booking. But if you are making reservation for BOWA – let us know and we will send you a code for an extra 15% discount.
You can choose either the half-day or full day tour, which means either up to 4 hours, or up to 8 hours. In both options, you will have a skipper at your disposal. Your skipper will show you all the secret bays and special places. Once on the boat you can spend the time however you choose.
So – are you ready for a day filled with joy, sightseeing of fascinating places, exploring beautiful nature and secret beaches and to discover the Best of What is Around?
We promise it will be a day to remember.